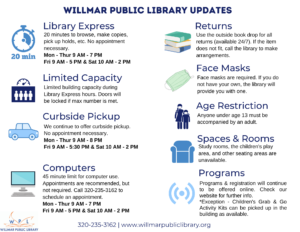 The Willmar Public Library is currently operating on modified service during the Minnesota State of Emergency.  Modified hours and additional library rules are in place to help ensure the safety of library patrons and staff.  Library visitors are expected to comply with all posted rules and guidelines.  Staff will enforce time limits and mask rules regardless of the number of people inside the library at anytime. 
Returning Checked Out Items:
All returns should be placed in the outside book return slot (Oversized items should be brought to the Circulation Desk during open hours).  
Returned items are quarantined for 24 hours before they are checked in.  Items will be backdated to the date they were returned.  
At this time we are not accepting donations.  
Visiting the Library: 
The library building is open during the following hours:  M-Th 9AM to 7PM; F 9AM to 5:00PM; SAT 10AM to 2PM. 
Masks are required at all times while inside the building.  Patrons who are unable to wear a mask should not enter the building and should call 320-235-3162 to discuss available reasonable accommodations.   
Visitors to the library are limited to 20 mins inside the building to browse, fax, copy, and complete other library business or 45 mins to use a computer.  Visitors are asked to make their visit short and for only essential business. Time limits will be enforced by staff.  
Visitors under the age of 13 must be accompanied by an adult capable of ensuring social distancing, mask, and time limit rules are meet.  
Seating, study space, and meeting rooms are unavailable at this time.   
Curbside Service:  
No Contact curbside hold pick up is available during the following hours:  M-TH 9AM-8PM; F 9AM-5:30PM; Sat 10AM-2PM.  Please use the following procedure to utilize curbside hold pickup: 
Patrons should place holds on items through the library catalog or by calling 320-235-3162.

After the library contacts you that the item is available for pickup come to the library and park along 5th SW by the library entrance.

Call 320-235-3162 to notify staff you have arrived.  Be sure to have your library card number with you to verify your identity.

Staff will checkout items and place them on the bench or table outside by the entrance stairs. 

When staff leave pick up your items.