For over 115 years the Willmar Public Library has been proud to provide service to the city of Willmar and surrounding communities. As part of the 32 member Pioneerland Library System WPL provides access to a wide assortment of statewide and national resources.   
---
Scheduled Library Closings
New Year's Day (01/02/2023)
Martin Luther King Jr  Day (01/16/2023)
Presidents Day (02/20/2023)
Memorial Day (05/29/2023)
Juneteenth Observed (6/19/2023)
Independence Day (07/04/2023)
Labor Day (09/04/2023)
Veterans Day (11/11/2023)
Thanksgiving Day (11/23/2023)
Christmas Eve Day (12/24/2023)
Christmas Day Observed (12/25/2023)
New Year's Day Observed (01/01/2024)
---
Library Cards
Library cards are available to anyone living in the Pioneerland Library System service area.  Residents of other Regional Library Systems can utilize their home library card to checkout items at WPL.  
To apply for a card bring a completed Library Card Application , a current government issued photo ID, and proof of current address (if not listed on ID) to the Checkout Desk.  
Library cards can also be issued to children under 18 yrs old with a parent or guardian accepting responsibility for items checked out with the child's card. 
---
Borrowing Library Material
Fines and Fees

Item Type

Loan Period

Overdue Fines

Max. Fine*

Books

28 Days

.10 per day

$3.00

High Demand 

14 Days

.10 per day

$3.00

CD's

14 Days

.10 per day

$3.00

Video/DVD

7 Days

1.00 per day

$3.00

Magazines

14 Days

.10 per day

$3.00

* After 3.00 maximum is reached replacement costs are charged

* Daily Overdue fine does not apply to Children's and Teen Items.  Replacement cost associated with lost or damaged items still apply.
---
Returning Library Materials
Book returns are available at the checkout desk (during open hours) or outside through the book return slot located by the main entrance doors (24 hours per day).  
Items checked out at WPL can also be returned to any Pioneerland Library System location.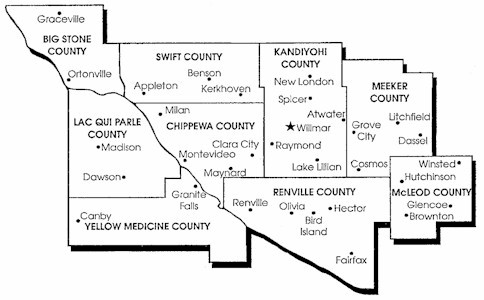 ---
Special Fees
Printing

$ .20 / page b&w




$ .50 / page color

Photocopies

$ .25 / page b&w




$ .50 / page color




$ .50 /page b&w 11×17




$1.00/page color 11×17

Microfilm Reader Printing

$ .20 / page b&w




$ .50 / page color

Headphones

$2.00 (purchase)

Lost Library Cards

$3.00 each

Fax Cost

$1.00 per side/page.