Wisdom & Wine 2023

Thursday , June 8
Willmar Conference Center
Doors Open – 6:00 pm
Desert – 6:30 pm
Author Presentations – 7:00 pm
The Willmar Friends of the Library 3rd annual Wisdom & Wine fundraising event will take place on June 8th. The exciting evening will be an opportunity to hear Minnesota authors (links go to authors' works in the library catalog);
Marcia Rendon
Matt Goldman
Steve Rushin
Proceeds from the event will be used to support the Friends of the Library Fund. Those attending will receive a free glass of wine or nonalcoholic beverage. A silent auction and raffle will all be part of the evening's activities. This is a wonderful opportunity for supporters of the public library to enjoy an evening of good conversation, interesting author talks, and great desserts!
Adult Summer Reading Program
Patrons can come into the library to get or print off online a copy of our Summer Reading Bingo Sheet! They have the chance of getting up to 5 prizes, and a blackout goes to a chance of getting the Grand Prize! For each bingo, patrons will get a scratch ticket that will determine whether they get a prize that day or a chance at the Grand Prize at the end of the summer. This program will be going until the end of August.
Download a Summer Reading Binngo Sheet [PDF]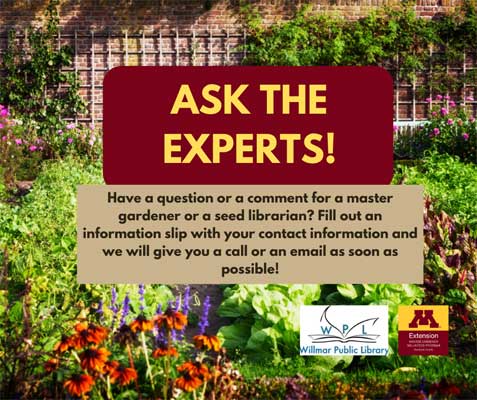 Have a question or comment/feedback for a seed librarian? You are always welcome to stop by the information desk, or fill out our online form and we will contact you!
You can also visit the University of Minnesota Extension site, which has many helpful topics from the Master Gardeners. Happy Gardening!
Adult Take & Make:
Fruit Cork Coasters
Adults (Age 18 +) use this form to reserve your supplies to make your own Fruit Cork Coasters. Library staff will contact you by phone or email when it is ready for pick up at the library.
Classic Movie Night
Tuesday, June 6 at 5:30  pm
In the Multipurpose room
Popcorn, snacks, and drinks will be provided
This month's movie is Roman Holiday
Garden Exchange
Wednesday, June 7; 10-11 am
Have too many pots laying around? Did you start too many seeds and want to share the seedlings? Maybe you are neatening up your existing beds and have divided plants to share! Bring your extra plants, seeds, bulbs, pots, etc. to the library swap table and see if there's anything else you'd like to take in exchange! The program will take place outside the front entrance at the Willmar Public Library.
WPL Book Club
Thursday, June 15 at 12:00 pm
in the Multipurpose Room
A monthly lunchtime book club every 3rd Thursday. Snacks are provided or bring a lunch!
This month's book is: The Appeal by Janice Hallett

Upcoming dates:
July 13 – Lessons in Chemistry by Bonnie Garmus
August 10   – The Worst Hard Time: The Untold Story of Those Who Survived the Great American Dust Bowl by Timothy Egan 
September 21 – H is for Hawk
by Helen Macdonald
Movie Matinee:
Supercell
Friday, June 16: 2 pm
In the Multipurpose Room
Popcorn, snacks, and drinks will be provided
Adult Game Night
Tuesday, June 20 at 6 pm
In the Conference room
Crafternoon
Wednesday, June 21; 2 – 4 pm
In the Multipurpose room
Bring in whatever project you are working on (diamond painting, knitting, drawing, etc.) and socialize with other crafters! Snacks and drinks will be provided.

Genealogy Presentation
Tuesday, June 27; 2 pm
in the Multipurpose Room
The Historical Society will be giving a presentation on genealogy research and how to look up your family's history.
Library of Things Checkouts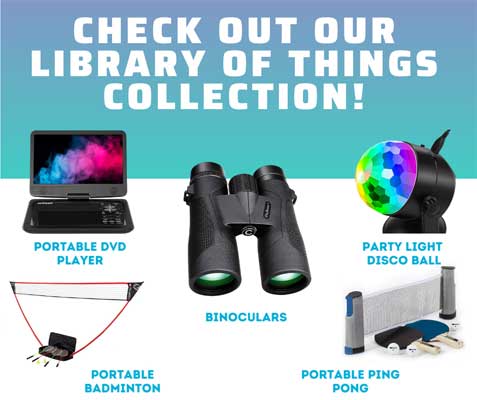 Books not your thing? Remember, you can use your library card to check out any items available in our catalog including: board games, yard games, fitness kits, audiovisual kits, active mind kits, and more! 
Willmar Public Library Makerspace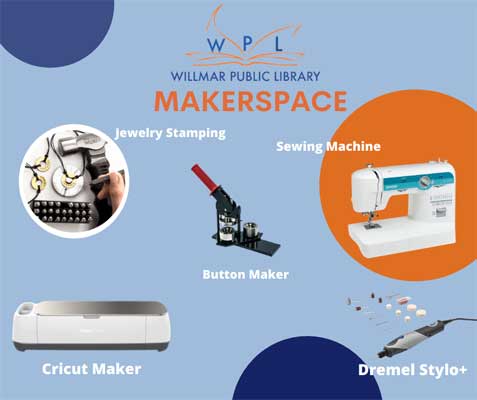 Register here to use our Makerspace equipment. Equipment must be used in the library and consumable materials are not supplied. Makerspace users must agree to the  Makerspace Policy and complete training on safety and equipment use. Reservations required.
Seed Library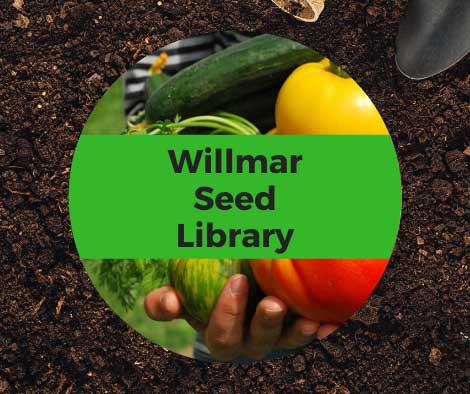 Access the Seed Library in the Willmar Public Library during regular hours.
Free Legal Advice
The Central Minnesota Legal Services offers free legal advice. Registration is required and must be done through the organization. Call them at (320) 403-1051 to schedule an appointment. Note: No criminal matters accepted through this clinic.
We Want Your Input!
As always, we welcome your input for programs you'd like to see or perhaps would like to lead at the library. Use this survey or contact us via phone or email with your input. For any questions about programs, email staff or call us at (320) 235-3162.
Book A Librarian
Set up an hour long, one-on-one appointment with a librarian for help with computer skills, tablets, research and more! Appointments can be made in person, via phone (320-235-3162) or through our online form.
Personalized Reading Recommendation Service
Stuck in a reading rut? Looking for a great read? Or a gift idea for a friend or family member? Ask a librarian! Fill out this form and tell us a little bit about your tastes, or the tastes of the person you have in mind. A member of our team of avid readers will create a hand-picked list of books and authors you might enjoy. The more you can tell us, the better our suggestions will be!