Willmar Public Library adult programs have gone online!
Follow our social media (links to the right under "Connect") for updates!
Pumpkin Decorating Contest

October 1 – 25
Show off your creativity and art skills by decorating a pumpkin! Free pumpkins will be available at the Library starting September 30 until supplies run out or provide your own. Pumpkins must represent a book or book character. Use this form to submit a photo of your pumpkin by October 25 to enter the contest. Then vote for your favorites on Facebook from October 26-30. Contestants may enter individually or as a team. For all ages. Prizes sponsored by the Friends of the Willmar Public Library.
Craft & Coloring Chat

October 28
2 PM
Use this form to register for Craft & Coloring Chat. We will meet virtually every fourth Wednesday at 2 PM. A Zoom invite will be sent to your email before the meeting. Once you've registered your coloring sheets will be set aside for you to pick up at the Library.
Upcoming Chat Dates: Nov 25 | No meeting in December
Murder Mystery
Thursday, October 29
6:30 PM
The detectives need your help to solve the mystery! Register here for your invitation to the online Murder Mystery Game on Thursday, October 29 at 6:30 PM. This program is for ages 16+. You will need Zoom on your computer or tablet to play along. Once you have registered, you will receive your character packet and further information via email/mail.
Puzzle Piece Community Art Project
Starting November 2

Show off your creativity and art skills on a puzzle piece! Starting November 2, pick up a puzzle piece at the library for either the adult or youth puzzle (while supplies last). Take it home and use the puzzle piece as a canvas for your art (paint, collage, mixed media, etc.) Then return your completed piece by December 15 to be included in the collaborative art display.
Trivia Night
Join our Facebook Group and play live trivia every other Thursday evening at 7PM.
Play solo or assemble a team. Ages 18+
Upcoming Dates: November 5 | November 19
No trivia Oct 22 due to One Book Willmar
Indie Author Day
Saturday, November 7
Attention book lovers! Join us online for a celebration of writing and books.
Register here to receive login info.
Schedule
11 AM: Interview with Jacqui Castle
12 PM: Announcement of the 2020 Indie Author Project regional contest winners!
1 PM: Author Panel: Writing in the Time of COVID
Literature Trivia
Tuesday, November 10
7 PM
From "Animal Farm" to "Zorro" how well do you know literature?  Join our Facebook Group and play along with our live trivia to find out! Play solo or assemble a team. The team/player with the highest score wins a prize! Ages 18+
Online Book Club
Wednesday, November 18 at 12 PM
Join in every third Wednesday at noon for a book discussion via Zoom.  Fill out this form to receive login information and discussion questions. This month's selection is Sex and Vanity by Kevin Kwan. Moving between summer playgrounds of privilege, peppered with decadent food and extravagant fashion, "Sex and Vanity" is a truly modern love story, a daring homage to "A Room with a View", and a brilliantly funny comedy of manners set between two cultures. New members always welcome!

Upcoming Books:
December – No Meeting
January 20 – The Seven or Eight Deaths of Stella Fortuna by Juliet Grames
February 17 – Hidden Valley Road by Robert Kolker
One Book | One Minnesota
Third Chapter Statewide Author Discussion
Featuring Louise Erdrich, author of The Plague of Doves
Tuesday, December 8, 2020
7:00 PM

Louise Erdrich will take part in a statewide discussion about her book, The Plague of Doves, the third featured title in the statewide bookclub One Book | One Minnesota.
Access the free audiobook and ebook of our featured selection on Ebooks Minnesota.
Library of Things Checkouts
Books not your thing? Remember, you can use curbside pickup for any items available in our catalog including: board games, yard games, fitness kits, audiovisual kits, active mind kits, and more! 
*Special arrangements will need to be made for returns that do not fit in the drop box.
Seed Library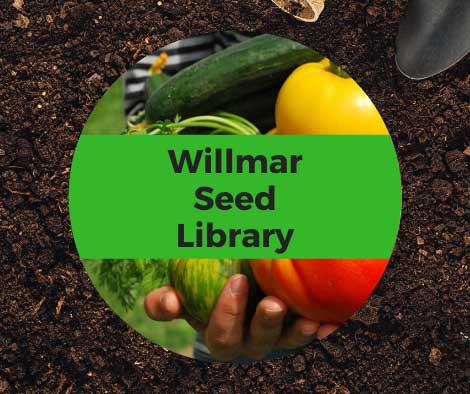 Request seeds online and use our curbside service to pick them up!
Fill out this form with your selections.
Free Legal Advice
The Central Minnesota Legal Services offers free legal advice. Registration is required and must be done through the organization. Call them at (320) 403-1051 to schedule an appointment. Note: No criminal matters accepted through this clinic.
We Want Your Input!
As always, we welcome your input for programs you'd like to see or perhaps would like to lead at the library. Use this survey or contact us via phone or email with your input. For any questions about programs, email staff or call us at (320) 235-3162.
Book A Librarian
Set up an hour long, one-on-one appointment with a librarian for help with computer skills, tablets, research and more! Appointments can be made in person, via phone (320-235-3162) or through our online form.
Personalized Reading Recommendation Service
Stuck in a reading rut? Looking for a great read? Or a gift idea for a friend or family member? Ask a librarian! Fill out this form and tell us a little bit about your tastes, or the tastes of the person you have in mind. A member of our team of avid readers will create a hand-picked list of books and authors you might enjoy. The more you can tell us, the better our suggestions will be!