The library computer system will be down for maintenance on Tuesday April 20, 2021 starting at 8am.  The library online catalog (to search for and request items), library patron account information, and the Overdrive e-book service will be unavailable until the system is restored.  The system should be down between 4 and 6 hours. 
Willmar Public Library adult programs have gone online!
Follow our social media (links to the right under "Connect") for updates!
At Home Interactive Movie Kits
A fun twist on movie night!  Reserve an interactive movie kit here or call 320-235-3162. Each kit includes an interactive movie script, a bag of microwave popcorn, and props for up to 6 participants.
*Limit 1 per week per household while supplies last.
Peeps Diorama Contest

Through April 25th
Create your very own Peeps diorama and enter it in our contest! Fun for all ages! Starting April 1st – Free 5 packs of Peeps chicks will be available for pick up at the Willmar Public Library for contest participants. First come, first served while supplies last. *Limit 1 per person. Click here for complete rules and to enter the contest.
Prizes sponsored by the Friends of the Willmar Public Library.
Take & Make: DIY Hanging Planter
Available Starting April 15
Use this form to reserve your supplies to make your own hanging planter. Library staff will contact you by phone or email when it is ready for pick up.
Limit one per person. Craft difficulty level: Beginner
Trivia Night

 Thursdays, April 15 and 29
7 PM
Join our Facebook Group and play live trivia every other Thursday evening at 7PM.
Play solo or assemble a team. Ages 18+
Online Book Club
Wednesday, April 21 at 12 PM

Join in every third Wednesday at noon for a book discussion via Zoom.  Fill out this form to receive login information and discussion questions. This month's selection is The Mystery of Mrs. Christie by Marie Benedict. The bestselling author of  The Only Woman in the Room returns with a thrilling reconstruction of one of the most notorious events in literary history: Agatha Christie's mysterious 11-day disappearance in 1926.
New members always welcome!
Upcoming Books:
May 19 – The Midnight Library by Matt Haig
Garden Exchange

 Wednesday, April 21
4 PM
Wondering what to do with all those spider plant babies? Is your garage home to a few too many pots? Bring your extra plants, seeds, pots, bulbs, etc. and swap them for something else. Everyone is welcome! Outside at the Willmar Public Library (please wear a mask and maintain social distancing).
Classic TV Trivia

 Thursday, April 22
7 PM
From "The Addams Family" to "The Wonder Years" how well do you know classic TV shows? Join our Facebook Group and play along with our live trivia to find out! Play solo or assemble a team. The team/player with the highest score wins a prize! Ages 18+
Craft & Coloring Chat
Wednesday, April 28 at 2 PM

Use this form to register for Craft & Coloring Chat. We will meet virtually every fourth Wednesday at 2 PM. A Zoom invite will be sent to your email before the meeting. Once you've registered, you will be notified by email when your coloring sheets are available for pick up at the Library.

Upcoming Dates: May 26
Book Box
Book Boxes contain several little surprise items that coincide with each book's story.
How it works:
⚫︎ Check out a copy of the book that goes along with the book box (book boxes do not come with a copy of the book!)
⚫︎ Open the items as you reach specific chapters in the book (they will be labeled.)
 After you've finished one of our book boxes, please consider taking a brief survey about them here:
https://forms.gle/7Neh5yqJuEJ5imG68
Current Book Boxes (while supplies last):

The Hunger Games by Suzanne Collins (teens & adults)
Box request form
(Starting April 1st)
Twilight by Stephenie Meyer (teens & adults)
Box request form
Library of Things Checkouts
Books not your thing? Remember, you can use curbside pickup for any items available in our catalog including: board games, yard games, fitness kits, audiovisual kits, active mind kits, and more! 
*Special arrangements will need to be made for returns that do not fit in the drop box.
Seed Library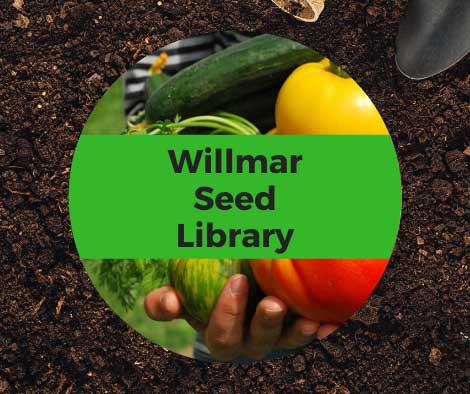 Request seeds online and use our curbside service to pick them up!
Fill out this form with your selections.
Free Legal Advice
The Central Minnesota Legal Services offers free legal advice. Registration is required and must be done through the organization. Call them at (320) 403-1051 to schedule an appointment. Note: No criminal matters accepted through this clinic.
We Want Your Input!
As always, we welcome your input for programs you'd like to see or perhaps would like to lead at the library. Use this survey or contact us via phone or email with your input. For any questions about programs, email staff or call us at (320) 235-3162.
Book A Librarian
Set up an hour long, one-on-one appointment with a librarian for help with computer skills, tablets, research and more! Appointments can be made in person, via phone (320-235-3162) or through our online form.
Personalized Reading Recommendation Service
Stuck in a reading rut? Looking for a great read? Or a gift idea for a friend or family member? Ask a librarian! Fill out this form and tell us a little bit about your tastes, or the tastes of the person you have in mind. A member of our team of avid readers will create a hand-picked list of books and authors you might enjoy. The more you can tell us, the better our suggestions will be!