Willmar Public Library adult programs have gone online!
Follow our social media (links to the right under "Connect") for updates!
Summer Reading
June 1 – August 31
This year the Adult Summer Reading Program has gone digital! Every 5 books read and every program you participate in gets you an entry towards a weekly prize drawing.  Enter here or ask for a paper form at your next curbside pickup.  
At the end of the summer, all non-winning entries will be added into a drawing for the grand prize.
The more you read, the more chances you have at winning!
Prizes sponsored by the Friends of the Willmar Public Library.
Master Gardener Resources
Nature Heals 2020 Master Gardener Online Table Topics
Take & Make: Melted Crayon Canvas
Register here  for supplies to create your very own melted crayon canvas.
Library staff will contact you by phone or email when it is ready for pick up. Pick up times are currently:
Curbside Hours: Mon – Thur from 9 AM – 8 PM, Fri 9 AM – 5:30 PM and Sat 10 AM – 2 PM OR
Library Express Hours: Mon – Fri 10 AM – 4 PM
Limit one per person. Craft difficulty level: Moderate
LEGO Contest
Attention builders! Show off your creativity and skills with an original LEGO build. Submit up to 4 photos of your design by August 20 to enter the contest. Then vote for your favorites on Facebook from August 21-31. Contestants may enter individually or as a team. For all ages. Complete rules and registration form.
Prizes sponsored by the Friends of the Willmar Public Library.
Caption Contest
Get your clever, witty, or punny captions ready! Follow us on Facebook to enter our caption contest. During the month of August, there will be a picture posted each week and everyone who fills out the caption contest form will be entered into a random prize drawing (captions posted in the comments will not count). Prizes sponsored by the Friends of the Willmar Public Library.
Online Book Club
Wednesday, August 19 at 12 PM
Join in every third Wednesday at noon for a book discussion via Zoom. Fill out this form to receive login information and discussion questions. This month's selection is "The Pioneers" by David McCullough. This bestseller by Pulitzer Prize–winning historian David McCullough rediscovers an important chapter in the American story that's "as resonant today as ever" (The Wall Street Journal)—the settling of the Northwest Territory by courageous pioneers who overcame incredible hardships to build a community based on ideals that would define our country. New members always welcome!

Trivia Night
Join our Facebook Group and play live trivia every other Thursday evening at 7PM.
Play solo or assemble a team. Ages 18+
Upcoming dates: August 13 | August 27
Library of Things Checkouts
Books not your thing? Remember, you can use curbside pickup for any items available in our catalog including: board games, yard games, fitness kits, audiovisual kits, active mind kits, and more! Through August 31st, check out any of the items in our Library of Things collection. Then share a picture of you or your family using the item and tag Willmar Public Library on Facebook or Instagram for your chance to win a gift card.
*Special arrangements will need to be made for returns that do not fit in the drop box.
Game Night
Every other Tuesday evening at 7 PM, join us to play Jackbox games! Register here for your invite to the Discord server. For ages 18 +
Upcoming dates: August 4 | September 15
One Book | One Minnesota
Wednesday, August 26, Noon
The One Book | One Minnesota statewide read for Summer 2020 is "A Good Time for the Truth: Race in Minnesota," edited by Sun Yung Shin and published by the Minnesota Historical Society Press. The ebook is free for download from Ebooks Minnesota through August 23. Join us for a special Online Book Club via Zoom discussing A Good Time for the Truth on Wednesday, August 26th at 12 PM. Fill out this form for login info and discussion questions.
Seed Library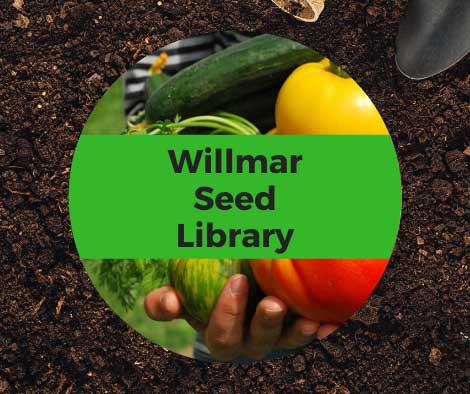 Request seeds online and use our curbside service to pick them up!
Fill out this form with your selections.
Free Legal Advice
The Central Minnesota Legal Services offers free legal advice. Registration is required and must be done through the organization. Call them at (320) 403-1051 to schedule an appointment. Note: No criminal matters accepted through this clinic.
We Want Your Input!
As always, we welcome your input for programs you'd like to see or perhaps would like to lead at the library. Use this survey or contact us via phone or email with your input. For any questions about programs, email staff or call us at (320) 235-3162.
Book A Librarian
Set up an hour long, one-on-one appointment with a librarian for help with computer skills, tablets, research and more! Appointments can be made in person, via phone (320-235-3162) or through our online form.
Personalized Reading Recommendation Service
Stuck in a reading rut? Looking for a great read? Or a gift idea for a friend or family member? Ask a librarian! Fill out this form and tell us a little bit about your tastes, or the tastes of the person you have in mind. A member of our team of avid readers will create a hand-picked list of books and authors you might enjoy. The more you can tell us, the better our suggestions will be!