Take & Make: Book Page Button Flowers

 Monday, October 18
Registration opens at 9 AM
Fill out this form or call 320-235-3162 to reserve your supplies to make your own book page button flowers. Library staff will contact you by phone or email when it is ready for pick up.
Limit one per person.
Ages 18+ Craft difficulty level: Beginner
Book Club

Thursday, October 21
12 PM
Join us every third Thursday at noon for a book discussion upstairs at the Willmar Public Library. This month's selection is Caste: The Origins of Our Discontents by Isabel Wilkerson. We meet in person at the library, or you may fill out this form to join via Zoom. New members always welcome!
Upcoming Books:
Thursday, November 18 – Hour of the Witch by Chris Bohjalian
Bounce Back Project Book Club
Tuesday, October 26
6:30 PM
Join us for this new book club collaboration with Bounce Back Project! This month's selection is The Book of Joy by the Dalai Lama and Desmond Tutu. Request the book at the Willmar Public Library. Meet in person upstairs at the library multi-purpose room. No registration required. Everyone welcome!
Crafts & Coloring
Wednesday, October 27 at 2 PM
Join us every fourth Wednesday of the month from 2-3 PM upstairs at the Willmar Public Library. Bring any crafts or coloring you are working on and enjoy time with like-minded individuals. Don't have anything to work on? Use the provided supplies for scratch art, coloring, extreme dot to dot, or paint by sticker. Ages 18+ 
First Fridays @ The Bloc
Friday, November 5
4-6 PM
Join us at The Bloc (601 Industrial Dr SW) every first Friday for a fun art project. Register here for for November's project – Book Page Button Flowers. For ages 16 +. No cost, but registration is required.

Book Box
Book Boxes contain several little surprise items that coincide with each book's story.
How it works:
⚫︎ Check out a copy of the book that goes along with the book box (book boxes do not come with a copy of the book!)
⚫︎ Open the items as you reach specific chapters in the book (they will be labeled.)
 After you've finished one of our book boxes, please consider taking a brief survey about them here:
https://forms.gle/7Neh5yqJuEJ5imG68
Current Book Boxes (while supplies last):
Harry Potter and the Sorcerer's Stone by J.K. Rowling
(all ages)
Box request form
Library of Things Checkouts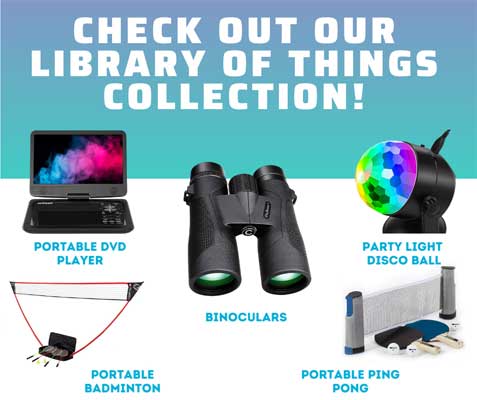 Books not your thing? Remember, you can use your library card to check out any items available in our catalog including: board games, yard games, fitness kits, audiovisual kits, active mind kits, and more! 
Willmar Public Library Makerspace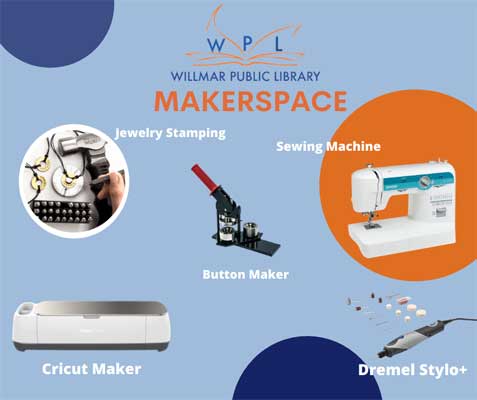 Register here to use our Makerspace equipment. Equipment must be used in the library and consumable materials are not supplied. Makerspace users must agree to the  Makerspace Policy and complete training on safety and equipment use. Reservations required.
At Home Library Service
Available to individuals within Willmar city limits who cannot physically visit the library due to temporary or long term disability or health or mobility challenges.  Prior registration required.
Learn More and Apply for Home Library Service [PDF download]
Or Apply Online Here
Seed Library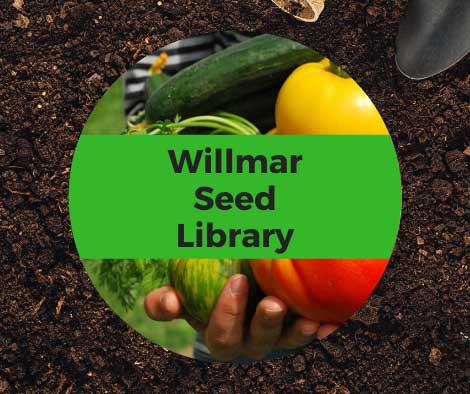 Request seeds online and use our curbside service to pick them up!
Fill out this form with your selections.
You can also access the Seed Library in the Willmar Public Library during regular hours.
Free Legal Advice
The Central Minnesota Legal Services offers free legal advice. Registration is required and must be done through the organization. Call them at (320) 403-1051 to schedule an appointment. Note: No criminal matters accepted through this clinic.
We Want Your Input!
As always, we welcome your input for programs you'd like to see or perhaps would like to lead at the library. Use this survey or contact us via phone or email with your input. For any questions about programs, email staff or call us at (320) 235-3162.
Book A Librarian
Set up an hour long, one-on-one appointment with a librarian for help with computer skills, tablets, research and more! Appointments can be made in person, via phone (320-235-3162) or through our online form.
Personalized Reading Recommendation Service
Stuck in a reading rut? Looking for a great read? Or a gift idea for a friend or family member? Ask a librarian! Fill out this form and tell us a little bit about your tastes, or the tastes of the person you have in mind. A member of our team of avid readers will create a hand-picked list of books and authors you might enjoy. The more you can tell us, the better our suggestions will be!