Movie Matinee
Friday, May 20th – 2:00 pm
We'll be watching Death on the Nile. Popcorn and refreshments will be provided. No registration required!
Dementia Friends
Tuesday, May 24th – 2:00 pm
in the Multi-Purpose Room
WPL is hosting an event called Dementia Friends, an Alzheimer's Society Initiative. Any member of the community can come and learn about Dementia, then turn what they learn into making the community dementia-friendly.
Crafts & Coloring
Wednesday, May 25th – 2:00pm
Upstairs in the Multipurpose Room. Bring your own craft or use the supplies provided by the library.
Classic Movie Night
Tuesday, June 7th, 5:30 pm
We will be watching Singin' in the Rain for our June Classic Movie Night. No registration is required!
WPL Book Club
June 16th @ noon
Join us in the Multipurpose Room at the library to discuss the book Cape Ann by Faith Sullivan
Future Dates: 
June 16 – Our Darkest Night by Jennifer Robson
July 21 – The Four Winds by Kristin Hannah
Game Night
Tuesday, June 21st – 6pm
Game Nights is the third Tuesday of the month.
No registration required.
Master Gardner Table Topics 
Visit the library to see our monthly table topics with the Master Gardeners.  Visit with a Master Gardener every 3rd Tuesday from 11am to 2pm to learn new gardening techniques. 
Library of Things Checkouts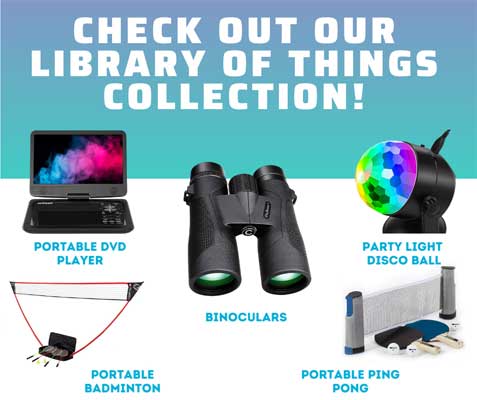 Books not your thing? Remember, you can use your library card to check out any items available in our catalog including: board games, yard games, fitness kits, audiovisual kits, active mind kits, and more! 
Willmar Public Library Makerspace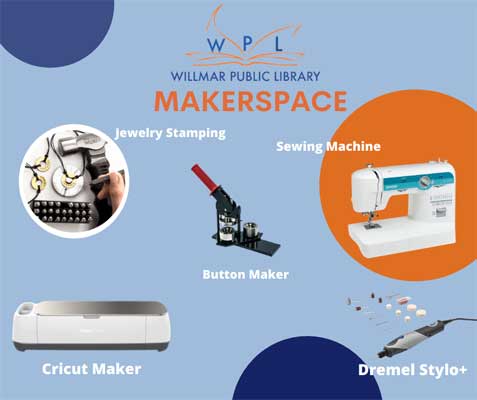 Register here to use our Makerspace equipment. Equipment must be used in the library and consumable materials are not supplied. Makerspace users must agree to the  Makerspace Policy and complete training on safety and equipment use. Reservations required.
Seed Library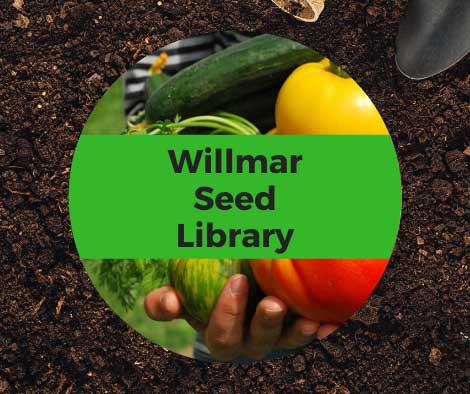 Access the Seed Library in the Willmar Public Library during regular hours.
Free Legal Advice
The Central Minnesota Legal Services offers free legal advice. Registration is required and must be done through the organization. Call them at (320) 403-1051 to schedule an appointment. Note: No criminal matters accepted through this clinic.
We Want Your Input!
As always, we welcome your input for programs you'd like to see or perhaps would like to lead at the library. Use this survey or contact us via phone or email with your input. For any questions about programs, email staff or call us at (320) 235-3162.
Book A Librarian
Set up an hour long, one-on-one appointment with a librarian for help with computer skills, tablets, research and more! Appointments can be made in person, via phone (320-235-3162) or through our online form.
Personalized Reading Recommendation Service
Stuck in a reading rut? Looking for a great read? Or a gift idea for a friend or family member? Ask a librarian! Fill out this form and tell us a little bit about your tastes, or the tastes of the person you have in mind. A member of our team of avid readers will create a hand-picked list of books and authors you might enjoy. The more you can tell us, the better our suggestions will be!