Little People Storytime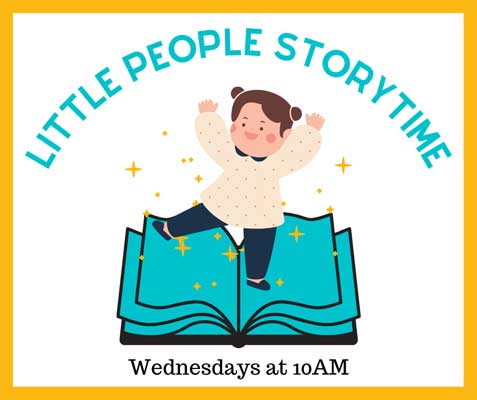 Wednesdays at 10am
This program has stories, songs, and playtime for littles!
Best for kids 0-3.
Homeschool Hour:
Bowl Weaving
Wednesday, May 18 @ 2pm
Homeschoolers are welcome to join us for a themed activity and hangout! In May, we'll make a woven bowl with a paper plate and some yarn!
Pajama-Rama Storytime
Tuesday, May 24 @ 6:30pm
Come in your pajamas, bring a blanket, and listen to stories, growing sleepier as we go. There will be milk and cookies afterward before you head home to bed!
Pokemon Terrariums
Thursday, May 26 @ 5:30pm
Sorry, Pokemon Terrariums are full! If you would like instructions for this craft to do at home, please email Alyssa.

Children's Matinee:
Sing 2
Friday, June 3 @ 4pm
Pop in on the first Friday of the month to watch a kids' movie matinee! Popcorn included.

Lego Club
Wednesday, June 4 @ 4pm
Test your creativity and skills every first Wednesday of the month.
Grow a Monster Storytime + Contest
Tuesday, June 7th @ 10am
Do you think you can grow the biggest zucchini in the area? Kandiyohi County 4-H is hosting a monster zucchini contest this summer, and we want you to join us! This will be a fun activity for any age. The more people who join us, the more fun it will be! So, encourage your friends to join as well!. We'll find out who grew the MONSTER zucchini at the Kandiyohi County Fair!
Mixed Nuts Comedy Duo
Tuesday, June 7th @ 2pm
Join us for a hilarious time with Homebound Theatre! Good for all ages.

Backyard Scientist Take Home Kit
Monday, June 13
Explore nature in your backyard, neighborhood, or local park! Best for ages 5-12. 20 kits will be available. This form will open June 1st. Sign up here
Family Fort Night
Friday, June 17th @ 6:30pm
Bring sheets or blankets and build a fort in the library as a family, then spend time reading. We'll come together for s'mores and songs around a (fake) campfire!  Sign up here
Royal Storytime
Thursday, June 23 @ 10am
Join the Willmar Fests princesses for stories and cookies! This event will take place at Miller Park. If there's rain, the event will be moved to the library.
Pajama-Rama Storytime
Tuesday, June 28 @ 6:30pm
Come in your pajamas, bring a blanket, and listen to stories, growing sleepier as we go. There will be milk and cookies afterward before you head home to bed! This event is every 4th Tuesday of the month.
Upcoming Dates:
July 26
August 23