Little People Storytime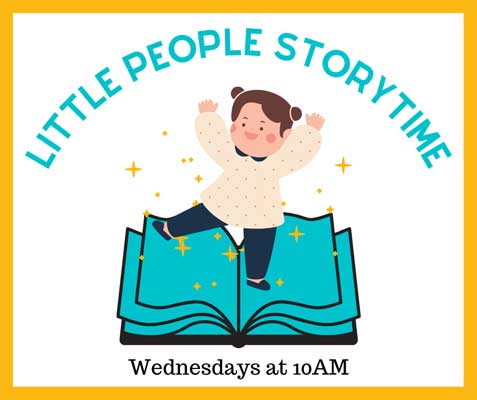 Wednesdays at 10 am
This program has stories, songs, and playtime for littles!
Best for kids 0-3.
Lego Club
Wednesday, October 4 at 4pm
Test your creativity and skills every first Wednesday of the month.
Early Readers Book Club:
Room on the Broom
Thursday, October 5  at 4 pm
Intended for children who have graduated from storytime age, this book
club focuses on getting emerging readers excited to read! We will read a
story, discuss, and do activities. Best for grades K-2, every first
Thursday of the month.
Children's Matinee:
Monster High: The Movie
Friday, October 6 at 4 pm
Pop in on the first Friday of the month to watch a kids' movie matinee!
Popcorn included.
STEMtastic Thursday:
Sphero Robot Maze
Thursday, October 12 at 4 pm
This program has stories, songs, and playtime for littles!
Best for kids 0-3.
Homeschool Hour:
German Cuckoo Clocks
Wednesday, October 18 at 2pm
Homeschoolers ages 5-12 are welcome to join us for a themed activity and
hangout! In October, we're crafting our own cuckoo clocks out of
household materials.
Monster Bash Party
Saturday, October 21 @ 12pm
Come do the monster mash at our monster-themed bash! There will be
music, games, and snacks! This party is open to all ages, no
registration required!
Pajama-Rama Storytime
Tuesday, October 24 at 6:30pm
Come in your pajamas, bring a blanket, and listen to stories, growing sleepier as we go. There will be milk and cookies afterward before you head home to bed!
ECFE at the Library
Friday, October 27 at 10 am
Sing songs, read books, and make crafts with Willmar's ECFE teachers!
Trick or Treat
Tuesday, October 31
Kids can stop in to the library for a goodie bag!