Little People Storytime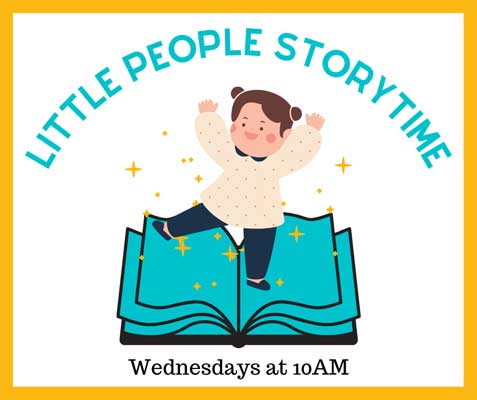 Wednesdays at 10 am
This program has stories, songs, and playtime for littles!
Best for kids 0-3.
Lego Club
Wednesday, February 1 at 4 pm
Test your creativity and skills every first Wednesday of the month.
Early Readers Book Club
Thursday, February 2 @ 4pm
The Mitten by Jan Brett
Intended for children who have graduated from storytime age, this book club focuses on getting emerging readers excited to read! We will read a story, discuss, have a snack, and do activities. Best for grades K-2, every first Thursday of the month.

Children's Matinee:
Paws of Fury: The Legend of Hank
Friday, February 3 @ 4pm
Pop in on the first Friday of the month to watch a kids' movie matinee! Popcorn included.

STEMtastic Thursday:
DIY Operation Game
Thursday, February 9 @ 4pm
Build your own functioning Operation game using basic circuitry and household items. Please note that this program is slightly more advanced and recommended for kids 7-12.

 Homeschool Hour:
Marionette Puppetry
Wednesday, February 15 @ 2pm
Create your very own working marionette puppet! Please note that this session is a bit advanced but we will have supplies for easier puppets for younger patrons.

Stuffed Animal Sleepover
Drop Off Event: Friday, February 17 @ 4:30pm
Pick Up: Saturday, February 18
Get your stuffed animal ready for a sleep over at the library! We will read a bedtime story, make a craft, and then our human friends say goodnight to their stuffed animals. Pick up your child's stuffie starting Saturday February 18th, along with a photo album of their night at the library!
Who knows what kind of mischief they'll get into…
– If you do not wish to attend the drop-off event, you may drop off your child's stuffed animal anytime on Friday and fill out the stuffie's name card
– You may pick up your child's stuffie during the following week, if preferred

ECFE at the Library
Friday, February 24 @ 10am
Sing songs, read books, and make crafts with Willmar's ECFE teachers!

Pajama-Rama Storytime
Tuesday, February 28 @ 6:30pm
Come in your pajamas and listen to stories, growing sleepier as we go. There will be milk and cookies afterward before you head home to bed!