Heritage Searchers of Kandiyohi County
"Experienced Researching Help"
Genealogy Collection
The Heritage Searchers have a genealogy collection, housed at the Willmar Public Library, that favors Kandiyohi County and Minnesota, but also includes materials for general US research, a number of items for surrounding states, and foreign research aids.
Other Resources and Indices include:
Obituaries

Marriages

Cemetery Transcription

Land Plats

Social Items

Veterans

Subject

Funeral Home Records

1905 County History

1875, 1885, & 1895 Census Information
Donations of genealogical books and family histories to the collection are welcomed.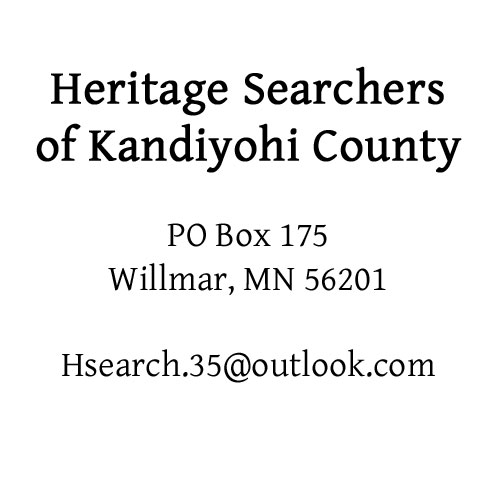 Joining the Heritage Searchers
Membership is open to persons interested in Family History and is not limited to residents of Kandiyohi County. Dues are $10 per Calendar Year (January 1st – December 31st). The Heritage Searchers meet the 4th Monday of the month at 1 pm at the Kandiyohi County Historical Museum.